Folder Nip Rolls
Pinch Pulleys, ASB Anti Snap Back Rolls, and Snap Pulleys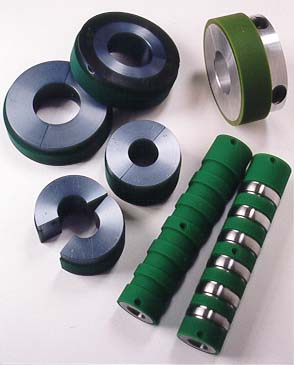 Iselann-Moss Industries, Inc.
Iselann-Moss produces Nip Rolls for printing equipment. Our process ensures a superior quality product unmatched in the industry. IMI polyurethane coatings are noted for exceptional wear and stability.
A unique process developed by Iselann-Moss eliminates any gap at the seams of the split nips. Nip Rolls are available as complete new units or stripped and recovered. When we receive your cores, we inspect them for any damage or distortion. Our process of removing the old polyurethane coating does not remove any metal from the core, which might cause distortion. The cores are grit blasted and cleaned to ensure proper adhesion of the polyurethane coating. This reduces the risk in process separation of coverings. Once the coating is fully cured, we grind all nip rolls to OEM specifications.
Polyurethane coatings may be color coded to identify gain. Dynamic balancing (in house) is available upon request. (to reduce vibration.) This may be necessary if old cores have been damaged. All Nip Rolls are 100% inspected for Durometer, O.D., Color, I.D. of Core, Pits, and fit. Typical turnaround time is 3 weeks.
Top