Cutting Rubbers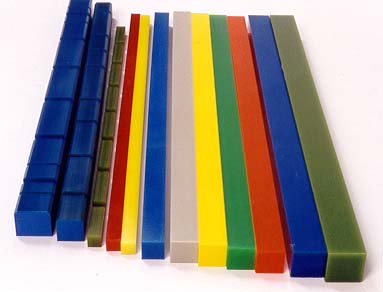 Iselann-Moss Industries has been precision molding cutting rubbers for web presses for over 30 years. By using high quality polyurethane resins and our unique molding process, we are able to produce the highest quality product available anywhere.
All our cutting rubbers are molded to very high dimensional tolerances, Length: +.015"/-.000, Height and Width: +.010/-.000 (press fit). Durometer, a key element of performance, is tightly controlled - (see chart below). Soft spots are virtually eliminated due to our molding process, ensuring you of consistent performance. All sides are parallel and square with respect to each other.
Our standard cutting rubbers are molded in a variety of hardness. To make identification easy, we have developed a standard color code.
Standard Profiles of Cutting Rubbers
| | |
| --- | --- |
| Style # CR001 (1.00" x 1.00" x 21.00" max) | Style # CR003 (1.00" x .875" x 28.50" max) |
| Style # CR002 (25mm x 25mm x23.5" max) | |
| | |
| | 1.00" x .875"Beveled |
| | |
| Style # CR004 (3/4" x 3/4" x 25.00" max) | Style # CR005 (3/4" x 3/4" x 25.00" max) |
| | |
| 0.75" x 0.75" | 0.75" x 0.75" Beveled |
| | |
| Style # CR006 (5/8" x 5/8" x 25.00" max) | Style # CR007 (15mm x 15mm x 27.50" max) |
| | |
| 0.625" x 0.625" | 0.590" x 0.590" |
| | |
| Style # CR008 (1/2"x 1/2" x 24.00" max) | Style # CR009 (3/8" x 3/8" x 28.00" max) |
| | |
| 0.500" x 0.500" | 0.375' x 0.375" |
| | |
| Style # CR010 (Gripper Pad) | |
| | |
| 0.50" High x 0.56" Base x 0.375" Top | |
| | |
| Style # CR011 (.315" x .315" x 25.00" max) | Style # CR012 (.630" x .630"x 24.00" max) |
| | |
| 8mm x 8mm | 16mm x 16mm |
| | |
| Style # CR013 (.787" x .787" x 28.50" max) | Style # CR014 (.866" x .866" x 20.50" max) |
| | |
| 20mm x 20mm | 22mm x 22mm |
| | | | | | | |
| --- | --- | --- | --- | --- | --- | --- |
| Hardness | | Part Number | | Hardness | | Part Number |
| (Shore A) | Color | Code | | (Shore A) | Color | Code |
| 40 | Blue | B | | 80-85 | Red | R |
| 50 | Black | BK | | 85-90 | Blue | BG |
| 60 | Brown | BR | | 90-95 | Green | G |
| 70-75 | Yellow | Y | | | | |
Standard Profiles
| | | | | | |
| --- | --- | --- | --- | --- | --- |
| Style # | Profile | Max Length | Style # | Profile | Max Length |
| CR001 | 1.00" x 1.00" | 21.00" | CR009 | .375" x .375" | 28.00" |
| CR002 | 25mm x 25mm | 23.50" | CR010 | Gripper Pad | |
| CR003 | 1.00" x .875" | 28.50" | CR011 | 8mm x 8mm | 25.00" |
| CR004 | .750" x .750" | 25.00" | CR012 | 16mm x 16mm | 24.00" |
| CR005 | .750" x .750" | 25.00" | CR013 | 20mm x 20mm | 28.50" |
| CR006 | .625" x .625" | 25.00" | CR014 | 22mm x 22mm | 20.50" |
| CR007 | 15mm x 15mm | 27.50" | CR015 | .600" x .600" | 21.00" |
| CR008 | .500" x .500" | 24.00" | CR016 | 10mm x 10mm | 22.00" |
To order or request a quotation, please specify the following:
| | | | |
| --- | --- | --- | --- |
| Profile #: | - Length: | - Durometer: | - Color: |
Top