Cheekwoods, Pressure Bars and Knife Cushions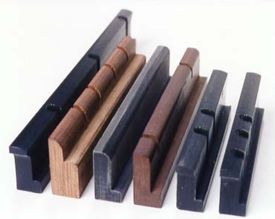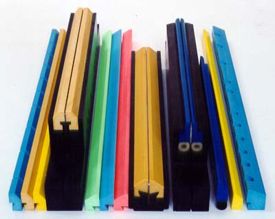 Iselann-Moss Industries has been molding cheekwoods for over 15 years. We started with our "Polyslide" style, which is a hard black plastic as a direct replacement for the old phenolic type. To solve the problem of knife box wear from hard springs, we developed our "Hard Nose Cheekwood." This molded polyurethane design utilizes a elasto-spring. This design dramatically cuts down noise, and also allows use of worn knife boxes. Its long life is another great benefit.
The "Hard Nose Cheekwood" is available in 2 sizes for Harris M-1000 folders: 10" Long, Yellow and 10.75" Long, Blue.
In the 1980's a new type of Cheekwood was developed, the "Soft Cushion." This design is manufactured from polyurethane, microcellular foam, typically 45-55 durometer, ShoreA. Since there are no springs used, change over is much quicker, and there is uniform face pressure. Also, they do not create any wear on the knife box. This design is the most quiet and longest lasting of all styles available.
Iselann-Moss Industries maintains an inventory of all its cheekwoods for immediate delivery. If you cannot identify the style that you use from the profiles, but you know the drawing number, we can check our cross reference files and respond quickly to your needs.
Style # CW001
Hard Nose

Style # CW002
.794" x .512"

Style # CW003
.748" x .591"

Style # CW004
22MM x 14MM

Style # CW005
1.00" x .875"

Style # CW006
20MM x 16MM

Style # CW007
875" x .650"

Style # CW008
34MM x 12 MM

Style # CW009
.83" x .65"

Style # CW010
.794" x .502"

Style # CW011
20MM x 16.5MM

Style # CW012
.850" x .545"

Style # CW013
.787" x .645"

Style # CW014
.866" x .551"

Style # CW015
.809" x .551"

Style # CW016
.991" x .551"

Style # CW017
.787" x .629"

Style # CW020
.787" x .629"

.Style # CW021
24MM x 20MM

Style # CW022
20MM x 16MM

Style # CW023
19.5mm x 15MM

Style # CW024
13MM x 16MM

Style # CW025
.829" x .656"
Top